Grubfly
(メゴライ, Megorai)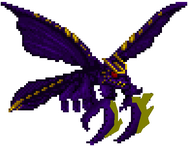 is the final evolution of Grubsper. After evolution, the Grubbacoon hatched out as a nymph and newly form dragonfly like-creature.
Species of Grubfly
Edit
The Grubflies are rare in the Rainbow Jungle where Hare and Guu lives. The size of colossus and using pincher claw to catch prey. It ability to fly fastest enough to defeat easily.
At the beginning of boss battle, Grubfly was a wormlike-form, but destroyed and hatched out actually a cocoon form.