Darkew
(ダークドー, Dākudō)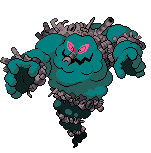 is the evolved from
Shadew
. After the evolution, Shadew has become a green like-spiritual form.
Species of Darkew
Edit
Darkew is the dark greenish ghost who lives on the haunted sewer by using it's pipes to create a illusion. Unlike Shadew, it doesn't have it's statue form. By negativing the Light or Darkness Creatures, it absorbs any light or darkness powers.
Darkew was supposedly be an Dark Clone, but it moved to Shadew's evolutionary stage.